Located in the Daintree National Park, Mossman Gorge is a 20 minute drive from Port Douglas. Our BTS Tours Bus transfers you to the Mossman Gorge Visitor's Centre where you catch the Eco Shuttle to the 3 km walking track. Prices include pick-up and return to your holiday accommodation.

Wet Tropics

Track Map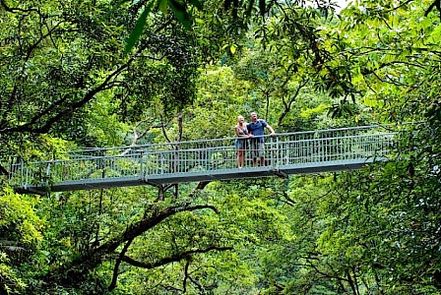 From Cairns & Northern Beaches
Price includes Mossman Gorge Park Entry Fees
Includes 1½ hours visit in Port Douglas
For the 10.00am departure from Cairns, click BOOK NOW
For the 7.00am or 9.15.00am departures, click ENQUIRY
Itinerary for 10.00am Cairns departure
10.00am depart Cairns, 10.30am Northern Beaches
11.30am arrive Port Douglas. 12.00pm depart to Mossman Gorge

*

Return
3.00pm BTS Bus departs Mossman Gorge
3.20pm arrive Port Douglas for 1½ hours visit
5.00pm BTS Bus departs Port Douglas
6.30pm arrive Cairns
A short stop-over in Port Douglas, approximately ½ hour
before transfer to Mossman Gorge 12.00pm departure. *
Not Included
Note: If booking a one-way trip from Cairns to Mossman Gorge,
the Mossman Gorge Entry Fees are not included in the price.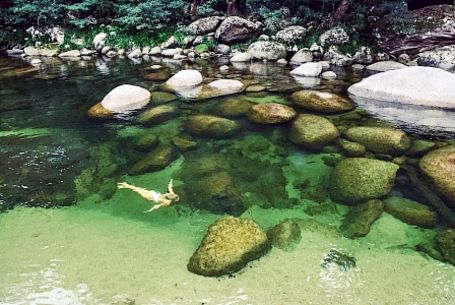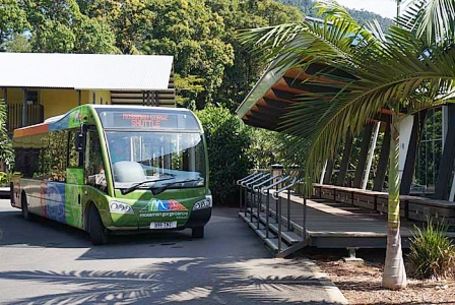 Mossman Gorge Self-Guided Walk
Bus Transfer Prices to Mossman Gorge
From
Adult
Child

(3-14yrs)

Family

(2 Adults + 2 Children)

Port Douglas
$29
$17
$85
Palm Cove, Beaches
$90
$45
$269
Cairns City Central
$98
$49
$247
From Port Douglas, Park Entry Fees Not Included
From Cairns the Park Entry Fees are Included
Adult: $9.80 Child: $4.85 (5-15 yrs) Family: $24.20 (2 Adults + 2 Children)
BTS Bus from Port Douglas to Mossman Gorge
09.00am departure
12.00pm departure
A 20 minute drive to Mossman Gorge. Check-in at the Visitor Centre, pay the
Entry Fee and board the shuttle to the walking track, runs every 15 minutes.
Allow 1½ hours leisurely pace to complete the 3km walk. Board the shuttle back
to the Visitor's Centre in time to catch the BTS Bus return to Port Douglas.
BTS Bus from Mossman Gorge to Port Douglas
12.45pm departure
03.00pm departure
Enclosed walking footware
Lightweight clothing. Hat
Insect repellent. Sunscreen
Swim wear & towel, if you plan to dip in the rock pools
Water bottle (bottles can be purchased at Mossman Gorge)
Visitor Centre
The Visitor Centre has full facilities, including:
Rest rooms. Showers, for those post river dip swims.
Cafe/restaurant, Gift Shop and Art Gallery.