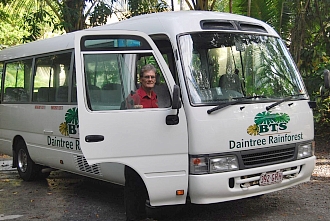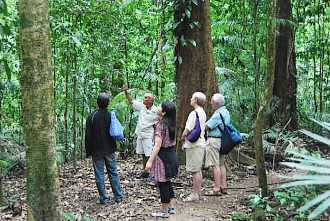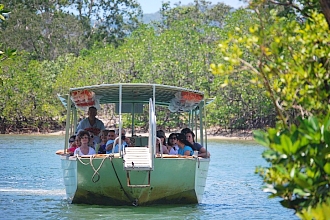 Daintree Full Day Guided Tour
BTS Tours balances fun, activity and relaxation, with knowledgeable Tour Guides to help you enjoy the best rainforest experience. Maximum group size is 16 persons.

World Heritage Area

Map Route
From Port Douglas:
Adult $175, Child $125 (age 3-14yrs), Seniors $165, Family $535 (2 adults, 2 children)
From Cairns:
Adult $185, Child $130, Seniors $175, Family $565

Tour Reviews
Tour Includes:
Tropical picnic lunch
Daintree River crossing by cable ferry.
Alexandra Lookout, panoramic coastal views.
Cape Tribulation, stroll along a rainforest fringed beach famously named by: Captain Cook
Cooper Creek wilderness area: view birds, turtles, butterflies, exotic vegetation by this secluded forest stream.
Guided Rainforest Walk, informative walks amidst ancient flora, an opportunity to spot elusive forest creatures.
Wildlife River Cruise, go deep into the heart of the Daintree in Cooper Creek Inlet, home of the saltwater crocodile.
Complimentary iced water and waterproof raincoats during the wet season: Nov - April (Summer)

Cassowary

Estuarine Crocodile

Ulysses Butterfly

Plants & Animals
Departures & Return:
Pick-up and return to all holiday accommodations is included.
Depart Cairns 7.00am Return 6.30pm
Depart Palm Cove 7.30am Return 5.45pm
Depart Port Douglas 8.45am Return 5.00pm-5.15pm
Note: The tour may be altered at times due to inclement weather and circumstances beyond our control.
BTS Tours and the Daintree
BTS Tours, formerly Bloomfield Track Safaris, has led tours to the Daintree Rainforest for 33 years. The Bloomfield Track runs from Cape Tribulation through the rainforest.